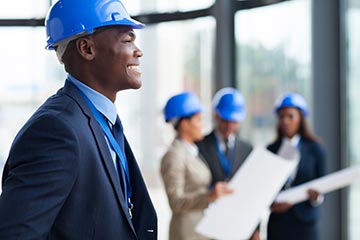 Surety Bond Associates is a surety bond agency and government consulting firm that provides specialty surety bond services and Bonding Assistance Programs to small, minority, woman and veteran owned contractors designed to eliminate the barriers that prevent them from accessing the financial resources necessary to actively compete in public sector construction. The company is also certified as a Woman Business Enterprise (WBE) with various government agencies.
Surety Bond Associates is a leading provider of contract bonds backed by the SBA in Pennsylvania, New Jersey, New York and Delaware. The SBA Surety Bond Guarantee Program is designed to provide small, emerging, minority, women and veteran owned contractors access to contract opportunities and to assist them in getting surety bonds that can't be obtained through the standard surety market.
Surety Bond Associates' consulting business develops and administer Bonding Assistance Programs for government agencies in an effort to support their diversity and economic development initiatives. These programs build contractor's bonding capacity by providing them with essential tools and skills to eliminate the obstacles created by poor financial planning, enabling them to compete in the construction marketplace.
Surety Bond Associates' contractor development programs have achieved notable acclaim and developed the foundation for the Surety & Fidelity Association of America's industry wide Model Contractor Development Program.
Ellen Neylan is the founder and sole owner of Surety Bond Associates. Ellen is a surety veteran with over twenty-five years experience in the surety industry, holding positions with several major surety companies fulfilling a variety of underwriting, management, and operations, business and product development roles. Ellen has lectured diverse audiences on surety principals and underwriting disciplines, and is an active member of the PA and NJ Chapters of the Surety and Fidelity Association of America.